Antoine Le BOUIL
Le plus souvent, les outils numériques à l'école ne sont pas exploités à hauteur de leurs potentialité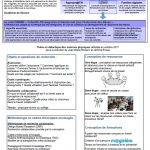 s. La volonté de mettre ces outils au service d'un des objectifs de l'école, l'autonomie des élèves, interroge la formation des enseignants. Cette recherche s'effectue en deux temps. D'abord, une méthodologie de type Design-Based Research est développée pour une recherche collaborative entre enseignants et chercheurs dans le but de concevoir des ressources en physique-chimie au collège. L'analyse de cette recherche s'effectue à partir du cadre théorique du modèle de la transposition méta-didactique (Aldon et al., 2013 ; Sanchez & Monod-Ansaldi, 2015) construit à partir de la TAD (Théorie Anthropologique du Didactique, Chevallard) et du PCK (Pedagogical Content Knowledge, Shulman). Le second temps consistera à la conception de formations initiale et continue pour les enseignants de physique-chimie.
Références bibliographiques
Sanchez, É. & Monod-Ansaldi, R. (2015). Recherche collaborative orientée par la conception: Un paradigme méthodologique pour prendre en compte la complexité des situations d'enseignement-apprentissage. Education & didactique, 9(2), 73-94. https://www.cairn.info/revue-educationet-didactique-2015-2-page-73.htm.
Aldon, G., Arzarello, F., Cusi, A., Garuti, R., Martignone, F., Robutti, O., Sabena, C., & Soury-Lavergne, S. (2013). The meta-didactical transposition: a model for analysing teachers education programs. In A. M. Lindmeier & A. Heinze (Eds.), Proceedings of the 37th Conference of the International Group for the Psychology of Mathematics Education, 37(1), 97–124.
Boilevin, J. (2013). Rénovation de l'enseignement des sciences physiques et formation des enseignants: Regards didactiques. Louvain-la-Neuve, Belgique: De Boeck Supérieur. doi:10.3917/dbu.boivin.2013.01.
IDÉE